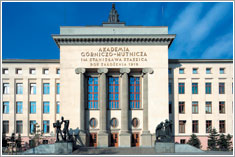 AGH is Poland's second largest University and its IT department needed one universal system that 2 or more administrators sitting in 3 separate work stations can manage 20 servers located in a server room. To achieve this they hired C&C Partners Telecom to design and install a solution.
Quick Take:
Clients Challenge
• Superior server management
• Allow multi-user level access
Minicom Solution
•
DX System
•
IP Control
Benefits
• Significantly increased server access
• More streamlined work environment
• Increased productivity and efficiency
Read more of this case study and others on the Minicom site.